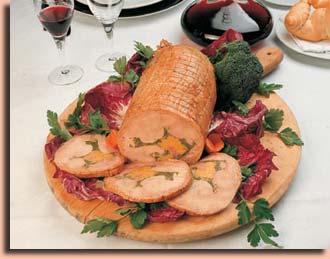 Yellow green chicken
Boneless chicken breasts and legs stuffed with eggs, Parmigiano Reggiano cheese, spinach and carefully wrapped into a nice round shape.
After being sliced, the yellow and green stuffing is flavoured thus making his yellow green chicken an inviting dish.
It is a delicate and particularly tasty course of the highest gastronomic quality.
It can be sold to: restaurants, pizza restaurants, buffets, bars, delicatessens, cook-shops, mobile buffets, supermarkets, butcher's shop, canteens and gastronomy.