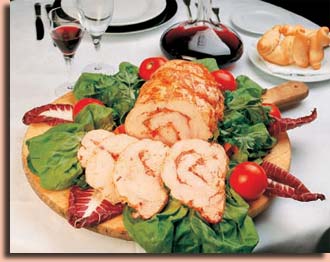 Oven cooked chicken
stuffed with red peppers
From the famous original recipe, it is a prime boneless chicken flavoured with fresh red peppers.
The particular savoury and soft flavour make it really delicious and tasty.
It is a succulent course, with the highest gastronomic quality; a highly perfected preparation on which both the sewing and binding is performed by hand, like a traditional home-made meal.
This product can be sold to: restaurants, pizza restaurants, buffets, bars, delicatessens, supermarkets, mobile buffets, cook-shops, butcher's shop, canteens and gastronomy.