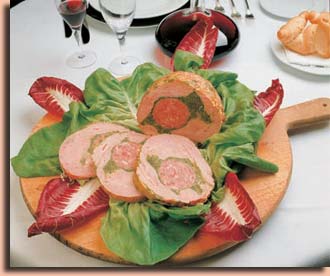 Turkey breast
with sausage and spinach
It is a slice of lean turkey wrapped around a stuffing mixture of sausage (cooked turkey and pork sacked meat), and spinach, flavoured with Parmigiano Reggiano cheese and eggs.
It is a delicate and particularly tasty roast, of the highest gastronomic quality.
Its main characteristic is that of being a hand made roast which combines both the rich flavours of the Emilia cooking and the light digestible nature of white meats.
This product can be sold to: restaurants, pizza restaurants, buffets, bars, delicatessens, cook-shops, mobile buffets, supermarkets, butcher's shop, canteens and gastronomy.